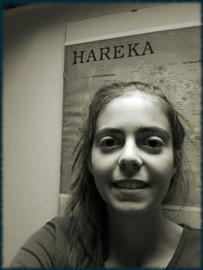 Short biography
Hello!
I am a Spanish and French writer, born in San Sebastián in 1992. I live in the French part of the Basque Country, and I have studied Spanish litterature and written a research's thesis about a romantic poet, José Zorrilla (1817-1893).
I love litterature, and of course, fantasy. Even before learning to write, I used to imitate the writing of books. Then, I was inspired particularly by Tolkien, Robin Hobb, Sean Russell, Salvatore, and George R. R. Martin.
After writing a lot during my childhood, I started in 2012 a more ambitious project, published in a cc-by license, which ended up having ten books: the Shaedra Cycle. Sadly, the saga is not yet translated into English.
Just this year (2016), I have started a new series, the Dashvara Trilogy, that is being translated into English. If everything goes well, The Lord of the Slaves (book 2) will be available in 2018 from Amazon. I am really excited with this new project and expect to keep writing in the next years. For me, fantasy is, so far, the best way I have found to read and tell stories that let you freely imagine whatever you want.
Marina Fernández de Retana (alias "Kaoseto")